Industrial
SkyBay™ LED High Bays
Comprehensive solutions for warehouse & industrial lighting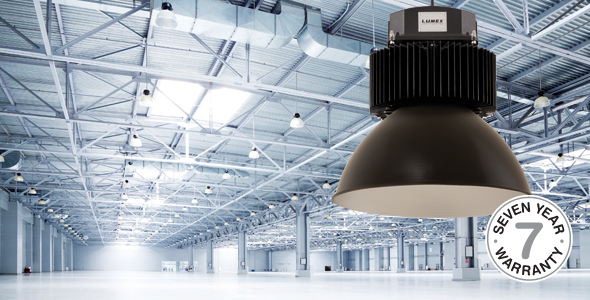 SAVE 80% 
of your power use by getting
MurrayMac Electrical

to replace all your high bays with Sky Bays!




SkyBays offer a long maintenance free life, projected to be

50,000 hours. That's a long time between service calls.




Buying SkyBay is buying certainty. Lumex is the only 

manufacturer confident enough to offer a Seven Year Gold 

Card Warranty.
High performance – up to 15,500Lm

90°, 120°, and Prismatic Reflectors

IP54 Clear Diffuser Kit to suit LL2R and LL2RP series

High colour rendering. In excess of CRI:80

Energy Savings of up to 80% (dependent on lux level required)

Average life projection 50,000 hours at LM80

Optimal Thermal Design ensures longer life

Black finish for improved heat management

Instant start and restart

Dimmable – 1-10 and DALI options available soon

3m Flex and Plug

7 Year Warranty